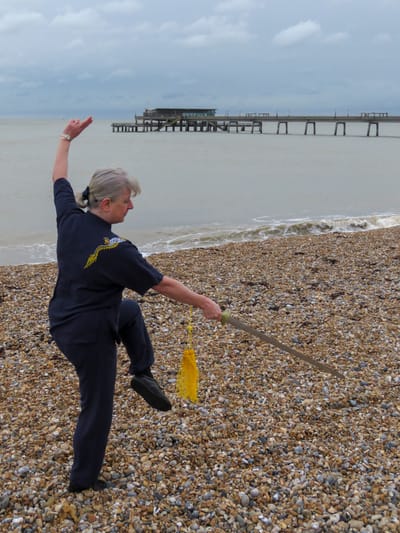 Tai Chi and Qigong teacher
I have been teaching classes in sports centres, within the community and in schools since 1998. In late 2006 I became more focussed on Tai Chi and have studied the Yang style since then – 8 step, 16 step, 24 step and a 24 step compact form plus 16 and 32 step sword forms. I have also studied the Sun Style Forms - 13 and 38 forms plus the Sun short sword form. I have travelled to China with on several occasions studying with Master Tary Yip, Master Faye Yip and Professor Li Deyin. I have also studied several times with Taoist Monk Master Zhang in the Wudang Mountains. I continue to study with the Deyin Institute in the UK and with the British Health Qigong Association. I am an Advanced Instructor Member of the International Taiji and Qigong Federation.
Qualifications: RSA Exercise to Music, Thanet College Personal Trainer Award, IIST Instruct in Exercises for Seniors and Juniors, IIHHT Advanced Diploma in Health and Fitness Studies, IIST Instruct in Ante and Post-Natal Exercise Certificate, City and Guilds D32 and D33 Assessors Award, IIHHT Body Massage Certificate, IIHHT Sports Massage Certificate, Body Balance, Otago Exercise Programme Leader Award, NCFE Level 3 Award in Preparing to Teach in the Lifelong Learning Sector, NCFE Level 2 Award in Safeguarding Children and Young People, YMCA Fit Qigong Foundation Certificate, YMCA Fit Tai Chi Short Form Certificate, BCCMA Level 2 Coach, F3 Tai Chi and Chi Kung Academy Intermediate Tai Chi and Chi Kung Instructor, 1st Dan Shotokan Karate, Reiki 1, Level 2 Award in Understanding Behaviour Change (Health and Wellbeing), VTCT Level 2 Award in Delivering Seated Recreational Physical Activities (QCF), VTCT Level 2 Award in Delivering Chair-Based Exercise (QCF), Level 2 Award in Walk Leading (QCF), Deyin Taijiquan Institute Tai Chi and Qigong Instructor Certificate, British Health Qigong Instructor Course in Ma Wang Dui and Stick Qigong, Standing Pole Exercise Instructor, Level 3 Designing Exercise Programmes for the Older Adult, Level 3 Exercise Referral Instructor, Active IQ Level 2 Award in Mental Health Awareness and Mental Health First Aid. Plus other supporting workshops and continuing professional development courses.